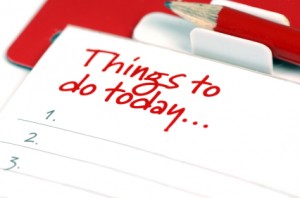 In order to start the process for filing for bankruptcy, the first thing you must do is gather up all of your financial records, basically putting together an inventory of everything you own and everything that you owe.
In particular, you will need:
A list of all of your assets, such as your house, car(s), household stuff, other vehicles, sports equipment, hobby equipment, electronics, jewelry, collections, antiques, etc.
A list of all of your debts, whether you intend to get rid of them in bankruptcy or not.  That includes debts owed to friends and family members, even though you may intend to pay them back when you can.
Paystubs for the last seven months or, if you are self-employed, a simple profit and loss statement showing your gross income, your expenses and your profit (or loss) for each of the past seven months.
Your tax returns, both federal and state, for the last two years, including all of your W-2s, 1099s, etc.
A drivers license or state-issued picture id, or military id & your social security card.
If you have been divorced, you will need to have a copy of your divorce decree, especially if you are required to pay child support or maintenance, or if you receive child support or maintenance.
Copies of any other legal papers: Lawsuits, Foreclosures, Complaints, Garnishments, etc.
All of your bank statements for the last several months.
By getting all of this stuff together, you will be in a good position to go over your situation with a qualified bankruptcy attorney.  Then, when you get together with the attorney, he or she will go over all of your information and be able to offer an opinion as to whether filing for bankruptcy is the right choice for you.  And, if so, whether you should file under Chapter 7 or Chapter 13.
Before your case can be filed, you will need to complete an approved credit counseling course.  This can usually be completed on line and shouldn't take more than a couple of hours.