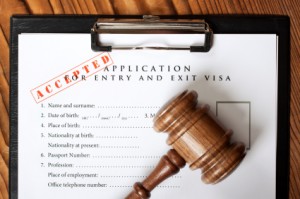 In a word: Yes.
The Bankruptcy Code doesn't limit who can file for bankruptcy based upon whether they are a citizen or not. It allows any person who resides here, or has a domicile, place of business, or property in the United States to file for bankruptcy. 11 U.S.C. 109 There is no requirement that you be a citizen, or even be legally in the country. So everybody, citizens and non-citizens, can file for bankruptcy.
But the person must still meet at least one of the above categories in order to file for bankruptcy.
The most common method by which non-citizens qualify to file for bankruptcy is by having their domicile here in the United States. By having their domicile here, it just means that they are physically present in one particular location with the intent of making that place their home. Generally the longer you have been in one place and the more you have put down roots—like getting a drivers license—the easier it is to show that you intend to make that place your domicile.
Are there any other requirements? Maybe. The bankruptcy forms have a place for your social security number even though there is no specific requirement for that in the Bankruptcy Code. If you have a legal Social Security number, you should use it. Otherwise, you can get an Individual Taxpayer Identification Number ("ITIN") from the Internal Revenue Service, and use that. The IRS issues ITINs to foreign nationals and others who are required to file taxes but don't qualify to get a social security number.
Anything else? You will need to show proof of of your identity at the Meeting of Creditors so that the Trustee can be sure that you are the actual person who filed the bankruptcy case. You will need to bring two things with you: 1) a document showing your SSN or ITIN — such as the original Social Security card if that's available, or some other paper received from the government or from an employer showing the number (like a W-2); plus 2) a form of photo identification—such as a driver's license, state identification card or passport.
So is that it? Well, pretty much. Having met those conditions, a non-citizen can file for bankruptcy. But two big questions remain:
1. Will the non-citizen have problems qualifying for a discharge of the debts, or claiming exemptions in order to keep their property?
2. Will filing for bankruptcy hurt the non-citizen's efforts to become a citizen?
3. Will filing for bankruptcy increase an illegal immigrant's risk of being deported?
Stay tuned. Those two important questions will be answered in my next two blogs.